When off-the-Shelf drums won't cut it, customize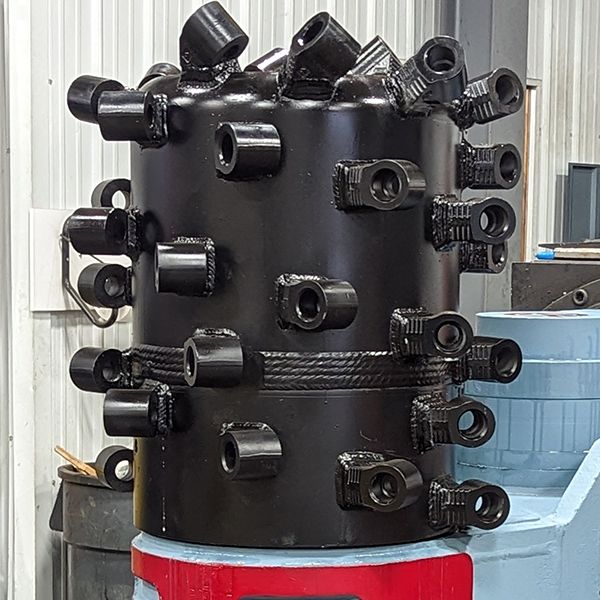 ---
While the vast majority of the Rockwheel drum cutters are delivered with our standard bomb proof, hard rock drums, sometimes a job has requirements where special solutions are called for. Our team is well equipped to design and build custom cutting drums and we welcome the challenge! Close collaboration with the customer along with our nearly 50-years of experience in rock cutting, provides for application specific drum designs.
Here we're highlighting a few recent projects but first check out Jeremy Foust, among the best in the biz, laying down some tight passes on a set of XHD severe duty rock cutting drums.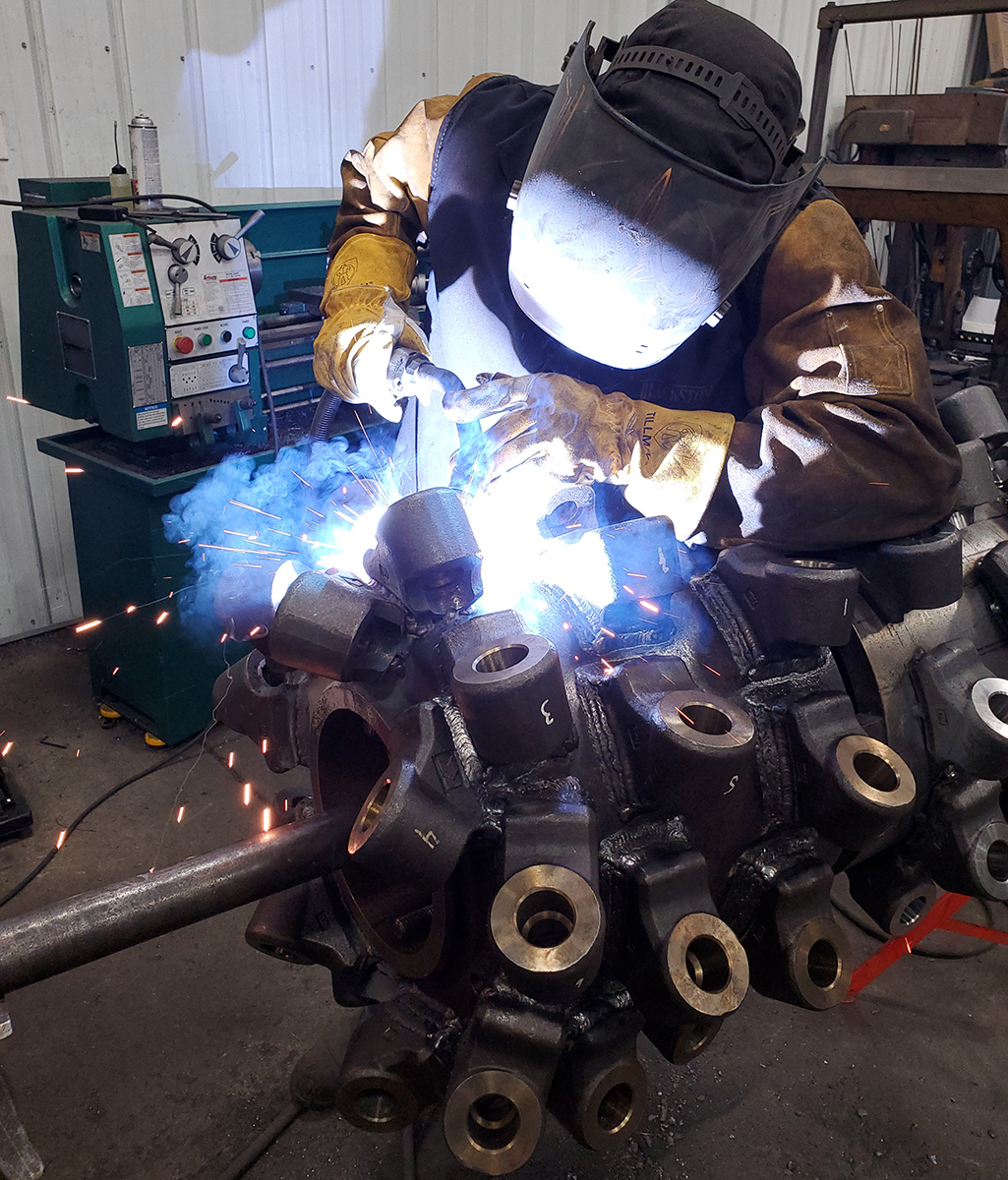 70" wide drums. A quarry in Texas which specializes in producing road base material for the oil fields was replacing an obsolete cutter and needed to boost production. They had a 50+ ton excavator which had the power, weight, and hydraulic capacity to run the uber-powerful G60 Rockwheel drum cutter. This 300-hp gear driven, rock eating, base pumping, Rockwheel has a gear reduction ratio of 1.2. This means that every ft-lb of motor torque is magnified by 20% for the highest pick penetration force on the market. With this power and an assessment of the rock physical properties we were able to increase drum width to 70" (1.8m) without sacrificing cutting performance. The result was a massive increase in cutting rate (CY/hr). Take a look...
Special Drums for Ladder Dredge
Once again, in Texas a unique project. A cutter head was needed for cutting hard abrasive sandy material to be mounted on a ladder dredge. A 200-hp G40 Rockwheel hydraulic rock ginder was selected and custom 50" drums with optimal pick lacing (the pattern of the teeth on drum) were designed and built. The photos below show how this was just the right fit for dredge. Note the wear protection blocks.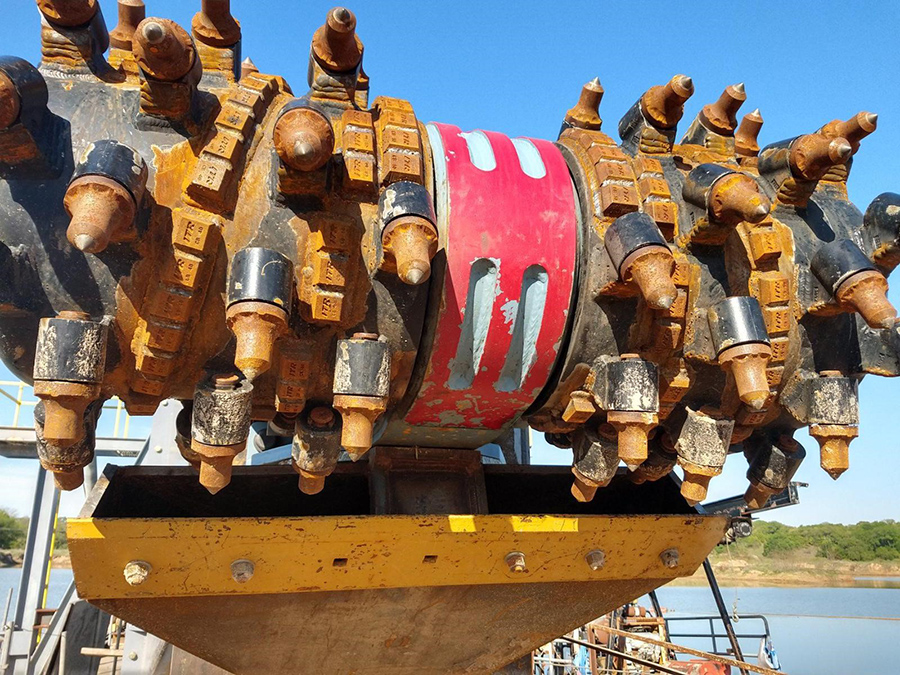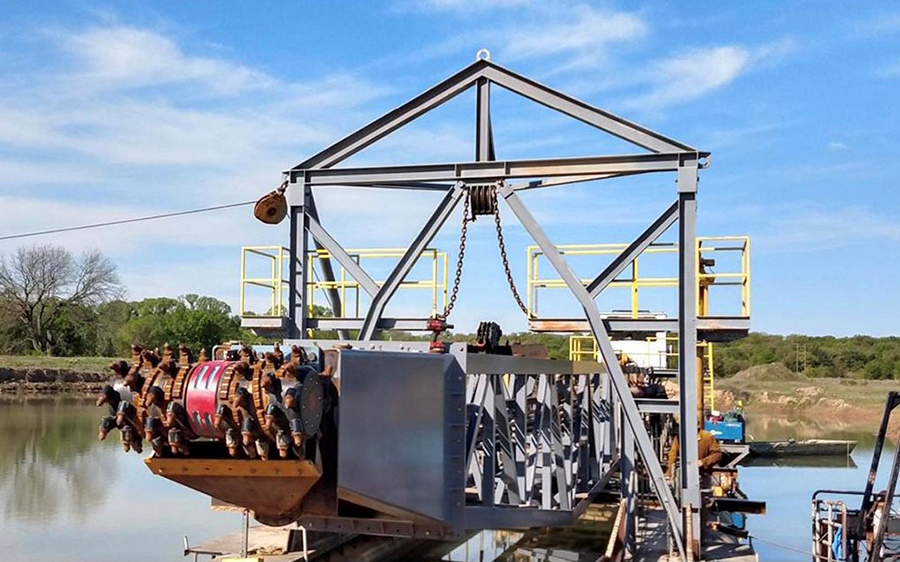 Narrow cutting drum options are available as well. These are frequently requested for trenching operations.
Rockwheel Americas is the go-to source for hydraulic excavator-mounted rock cutting attachments. With the largest Rockwheel drum cutter rental fleet in North America and unmatched support we're grinding it out on a daily basis to change the way hard ground is excavated. Contact us direct or have your local equipment dealer give us a call.