Rock Grinder Proves Faster Than Hammering In Chicago. Who? What? Why?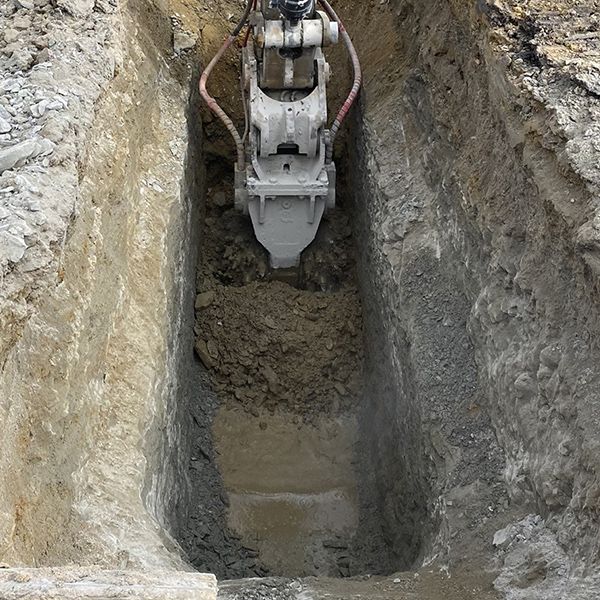 ---
Scott Russ had seen Rockwheel drum cutters at trade shows and online, but he was unconvinced they could do more than the hydraulic hammers typically employed. J Russ and Company is a forward thinking, full-service site civil contractor who has been working in the Chicagoland area since 1979. From their Lockport, IL headquarters they specialize in mass grading, excavation, site utilities and ground stabilization.

Scott contacted Rockwheel Americas (Bellefonte, PA), to learn more. While reviewing the job demands and available excavators with the Rockwheel team, it was determined that he needed a high power, aggressive Rockwheel for their Caterpillar 352 Next Gen (55t). Because Rockwheel Americas offers rent-purchase-option (RPO), he decided to rent the monster 300hp G60 twin drum Rockwheel to go after the notoriously challenging limestone in the Joliet, IL area which can reach into the 20,000+ psi compressive strength range. The Rockwheel G60 is the only model in its class with gear reduction boasting up to 47,300 ft lb of torque and nearly 40,000 lbs of pick force, so it offered an opportunity to directly assess rock grinding vs. impact hammering. The job, trenching in rock for the installation of sanitary sewer 3-10 feet deep, was already a handful for the 14,000 ft. lb. hammer which was not meeting their production requirements, so why not take a chance on the newer method.
Rock grinders have conical carbide teeth installed at a 45° angle which attacks the rock differently than a hammer. This angle of attack goes after the tensile and shear strength of the rock which is much lower (~10-15% of compressive strength) than the compressive strength which a hammers attack. This is a result of the microscopic structure of rock: it contains microscopic cracks which are forced open and enlarged by tension and shear but which are forced closed by compression. (https://en.wikibooks.org/wiki/Historical_Geology/Physical_properties_of_rocks)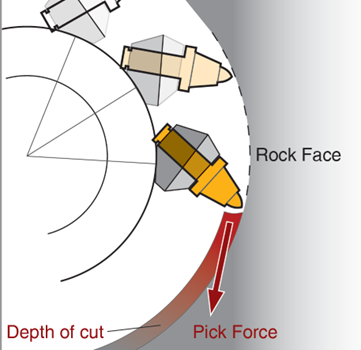 With approximately 60 teeth (depending on specific model) rotating continuously at a typical 60-65 rpm with very high torque, there can be 3000-4000 "bites" per minute. So, although an individual "bite" may not seem significant, the cumulative effect is remarkable! This also explains how a crushed stone product results from the grinding action and frequently this stone is reused onsite rather than hauled away as is the case with hammered rock.
On the job site, the result exceeded expectations with the Rockwheel G60 generating two major benefits: a significant increase in production compared to the hammer and the ability to reuse the 2-3 inch backfill created by the grinding process. Moreover, as the photos make clear, the precision of cut and absence of overbreak mean no unnecessary excavation was done. He was very pleased with the G60 and may soon be adding another Rockwheel for a 40-ton excavator as the work of J Russ and Company expands. The RPO was a low risk path to proving the effectiveness of the rock grinding approach. It allowed use of the tool for an extended period on an active job with their own equipment and operators with the option, but not obligation, of converting to a purchase.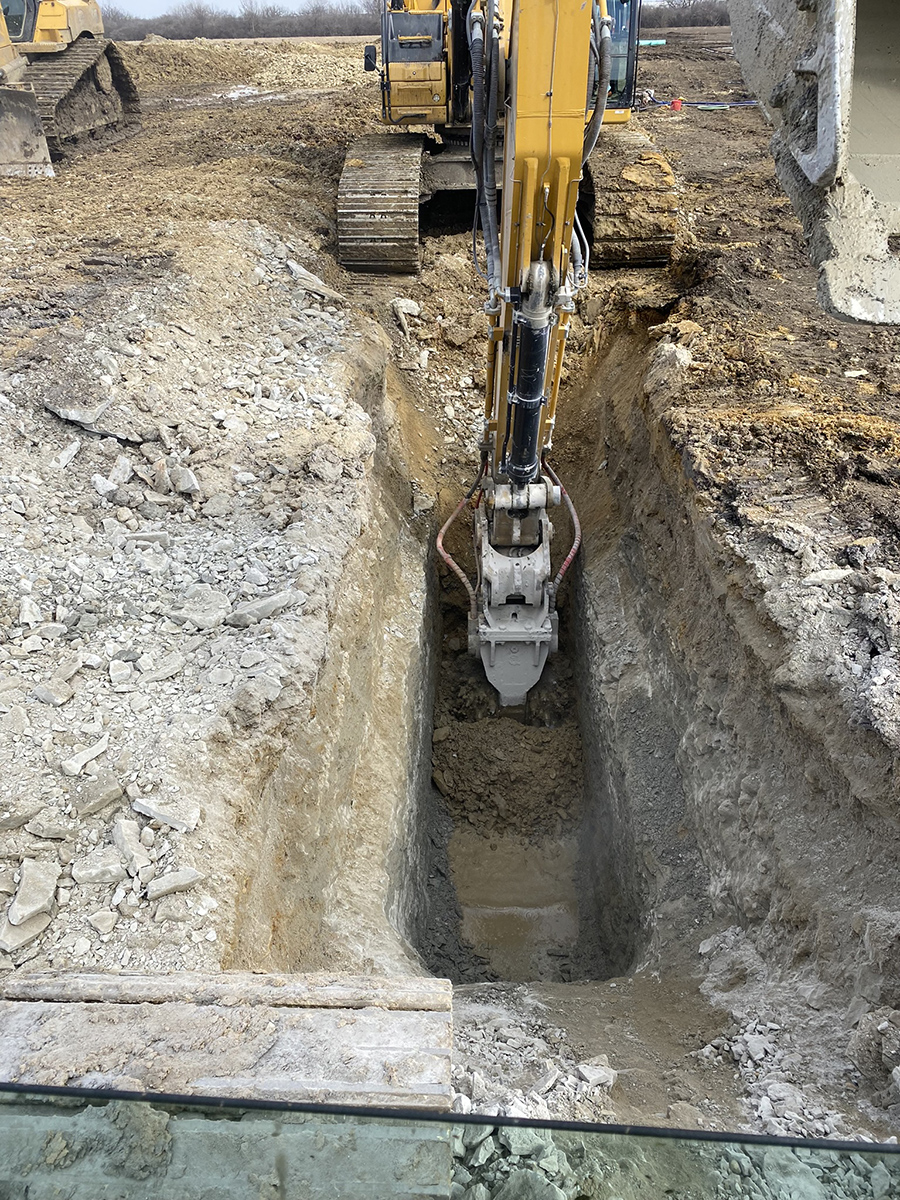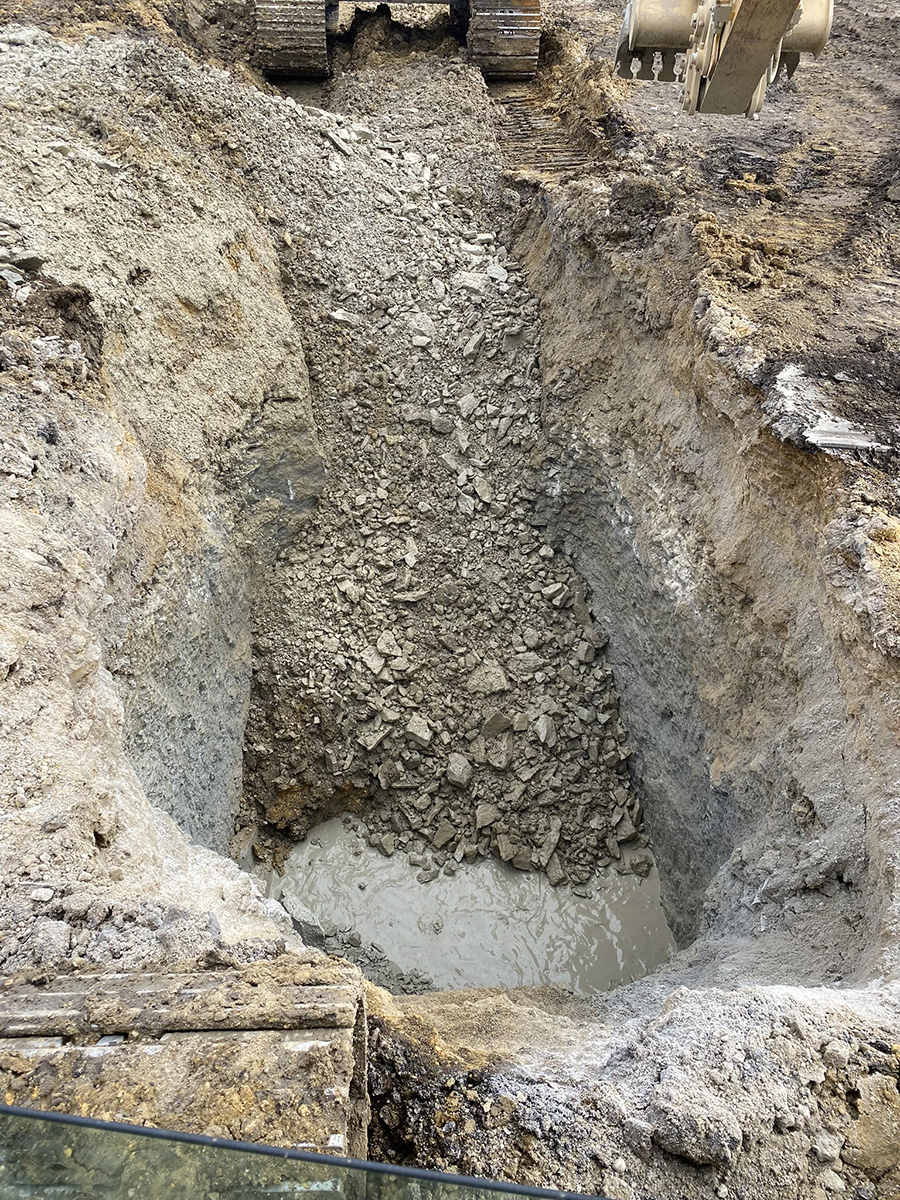 When it comes to the Rockwheel drum cutters, as more units are successfully deployed nationwide, it's hard to deny their advantages over hammers for many applications, especially rock trenching. From trenching to foundations, concrete removal to general rock excavation and beyond, Rockwheel offers a faster, higher precision, quieter, and more effective solution. Rockwheel Americas has a national rental fleet, complete inventory of units and parts, nationwide service support and the most experienced team in the business.
For more information visit www.RockwheelAmericas.com or contact us directly at 814-466-7134 or email info@rockwheelamericas.com.