New Mine Scaling Drum Outperforms the Competition!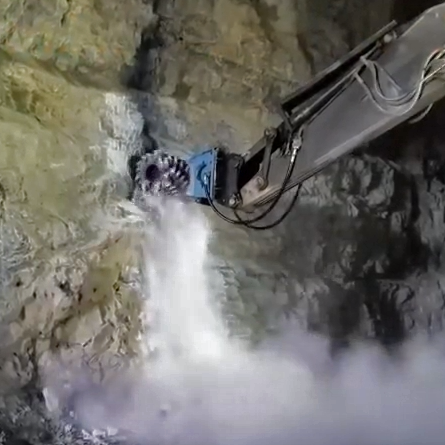 ---
In a head-to-head trial the Rockwheel model D30-M (mining version) hydraulic rock cutting attachment was found to cut smoother, stronger and more continuously when compared to a competitive unit the customer was testing. This was an ideal comparison because the same excavator, operators, and rock types were involved, minimizing variables. The smoother cutting was largely attributed to the drum shape and pattern of teeth on the cutting drums. A higher density pick lacing with optimal spacing for limestone rock was developed by Alpine specifically for this type of mine scaling job. In addition, Alpine made sure the drum speed and torque were optimized. Other features of the D30M include: heavy duty housing, square drive shaft, simple 2-hose system, integrated water sprays for dust suppression, and innovative valving to protect the hydraulic motor.
There was less wear and tear on the excavator and the consumption of carbide teeth was signifiantly lower which offers signifiance savings and minimizes downtime.
Hydraulically driven rotary cutterhead attachments are rapidly gaining popularity in underground drill-and-blast operations. Mine manages tell us that excavator based rock cutting machines reduce scaling time by 50+% saving several hours per day. In addition, there is less hand scaling and the need to re-scale an area because of failed inspections is practically eliminated.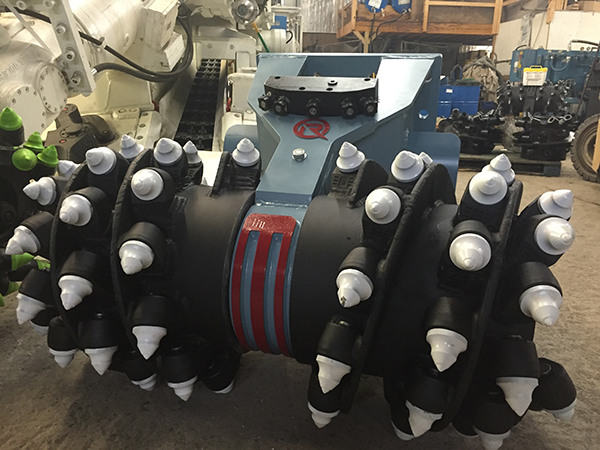 Alpine Rockwheels represent the most advanced and robust hydraulic rock grinding attachments on the markets. Excavator mounting rock cutting machines are available for carriers of all sizes from 2 to 100+ tons.
Contact us at www.rockwheelamericas.com to see how these tools can improve efficiency in your operation.