D20 Rockwheel Rapidly Removes Outcropping Limestone, then Grinds Some Large Stumps!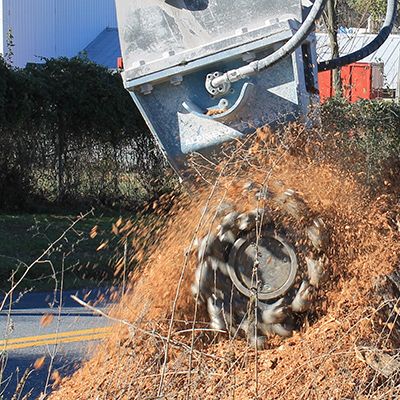 ---
If you live in Pennsylvania, USA chances are there is underlying bedrock which at times is exposed at the surface as outcroppings. This prevalence of rock (limestone, shale, & sandstone) presents a challenge for any form of earth work be it trenching (sewer and water), preparation of foundations for buildings, grading along roads, and even farming where outcropping rock can damage expensive planting and harvesting machinery.

The traditional solution to this problem is to use hydraulic hammers. While these tools can get the job done, drawbacks exist. Hammers (a.k.a. breakers or hoerams) are very loud and have high vibrations which affects the surrounding rock mass and upsets neighbors. In addition, hammers are not capable of precise removal of the rock. Overbreak is a common problem resulting in extra time and expense. Moverover, the large chunks of broken rock cannot be reused without additional crushing otherwise it musted be hauled offsite which is costly. There is frequently a need to remove only a thin layer of rock, say 6"-12", but with hydraulic hammers twice that can in inadvertantly removed.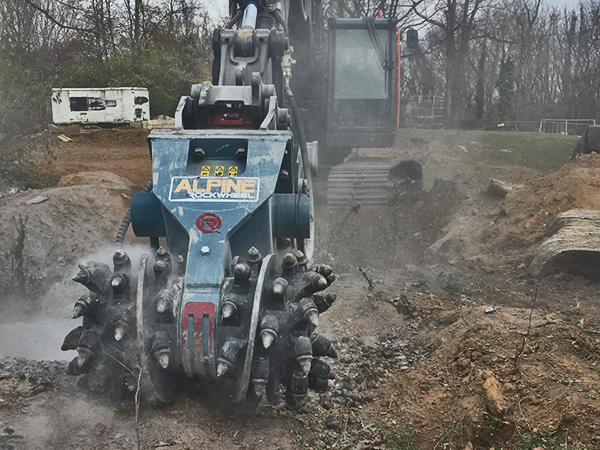 There is a far more efficient and economical option. Alpine Rockwheel rock and concrete grinding attachments are the solution. These excavator mounted rock and concrete cutting attachments can rapidly remove the rock to a precise cut line (within 1"-2" with a skilled operator, or better when a depth control guide is used). Moreover, in trenching or footer jobs, rock grinding attachments leave smooth walls, sharp corners and flat bottoms. Trench profiles with rock cutting attachments are slot shaped compared to the V shape common with hammer. This means you're not excavating unnecessary material. Finally, you're left with a crushed stone that can be reused as backfill.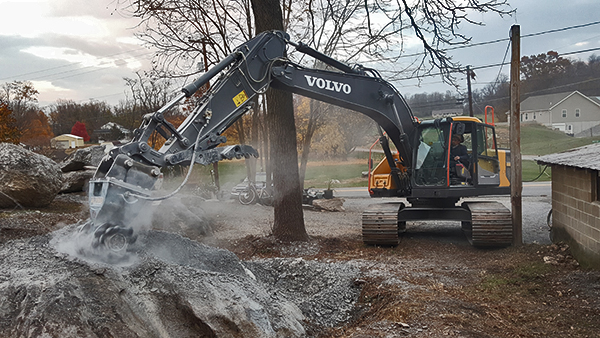 This winter a business owner in Shippensburg, PA wanted to expand his builiding but immediately adjacent to the existing struture was a 6-8 ft thick limestone bedrock outcrop in the way. The customer decided to use a D20 (95-hp) Rockwheel excavator mounted rock grinder (Rockwheel) on a Volvo EC220. The Rockwheel is powered by the standard auxilliary hydrualic kit of the excavator and installs like a hammer with a simple two line system. With a peak torque of over 13,000 ft lb, the Rockwheel was very affective and made quick work of the rock removal. The excavator operator quickly learned the correct down pressure to maximize rock cutting performance and was impressed by how smooth the D20 cut, espeically compared to using a hammer. Once the main job was done, they installed a set of wood cutting teeth and removed several large diameter stumps.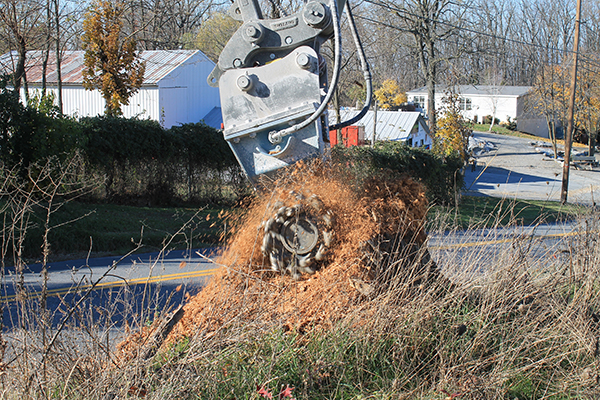 All in all, it was a very successful job!